What is an SR22?
The Texas SR22 is a certificate of insurance needed when a driver's license is suspended.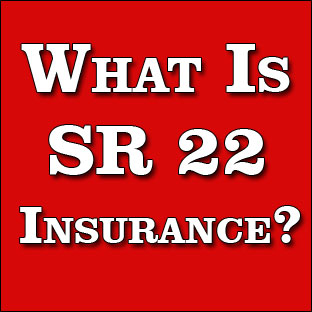 If you have been charged with Driving While Intoxicated (DWI), Driving Under the Influence (DUI) or received a ticket for failure to maintain financial responsibility (no insurance coverage), the State of Texas requires you to obtain SR22 coverage.
Who needs an SR22?
Any individual whose driving privilege has been suspended or revoked as the result of a car crash, conviction or judgment is required to file an SR22 certificate with the DPS and maintain coverage for up to two years starting from the date of the conviction. An insurance card or policy will not be accepted in place of an SR22.
How is Texas SR22 insurance special?
The SR22 is sent to the Department of Public Safety (DPS), and as long as the insurance policy attached to the form stays current, the driver's license affected  is valid. However, if at any time during the required period of coverage  the insurance lapses or is cancelled, the DPS will be notified and the driver's license can be suspended again and the required time period of coverage will start over.
Does SR22 replace my existing car insurance?
If you already have car insurance policy, you qualify for what's known as a 'non-owners SR22 policy.' A non-owner's policy is a special policy that allows you to file an SR-22 form at a much lower cost. Additionally, it is a legal way to fulfill your SR-22 requirement without a guaranteed rate-hike from your current insurance provider.
But I don't own a vehicle. Do I still qualify for SR22 Coverage?
If you don't own a vehicle, you are still eligible for the non-owner's SR22  policy. It is a real insurance policy but it is secondary to any other auto coverage you might already carry.
How does the State of Texas regard SR22-only policies?
In Section 601.079 of the Texas Transportation Code, it is explained that a driver may have more than one insurance policy in order to fulfill their liability requirements. This means that you can purchase an SR22 only policy to fulfill your reporting requirements while still maintaining the insurance policy you have with your current insurance provider.
What if I also need auto insurance?
If you are required to file SR22 coverage and you currently don't have an automobile insurance policy in place, Burns Insurance Solutions can provide a competitive quote for coverage that will fulfill your coverage needs.
How much does SR22 Insurance cost?
The cost for SR22 coverage is determined by several variables. Factors include which State you reside in as well as how many infractions you could have accumulated. That is why the best action you can take is to request an online quote. In Texas, a driver must obtain an SR22 insurance policy and pay any related penalty fees to the state to retain their driving privileges.  After the suspension period has lapsed, a reinstatement fee also must be paid to the state to reinstate ones driver's license. If you are required to purchase SR22 insurance, it is highly recommended that you consult with an attorney for advice and a complete list of the fees you might expect during (and after) your suspension period.
What are Minimum Liability Amounts?
Minimum Liability Amounts
The minimum liability coverage amounts required by law are:
$30,000 for bodily injury to or death of one person in one accident,
$60,000 for bodily injury to or death of two or more persons in one accident, and
$25,000 for damage to or destruction of property of others in one accident.
For more information on minimum liability insurance laws, please visit the Texas Department of Insurance.
Where Do I send proof of SR22 Coverage?
DPS Mailing Address, Fax Number and Email Information
Required documents can be submitted by mail, fax or email. All documents submitted by email must be in PDF format. Individual must write their name, date of birth and driver license number on all documents so their record can be properly identified.
Texas Department of Public Safety
Enforcement and Compliance Service
P.O. Box 4087
Austin, TX 78773-0320
Fax Number:  512-424-2848
Email: driver.improvement@dps.texas.gov
FOR ADDITIONAL INFORMATION SPECIFIC TO THE REQUIREMENTS IN THE STATE OF TEXAS, PLEASE VISIT: http://www.txdps.state.tx.us/DriverLicense/sr22InsuranceCertificate.htm